Loki DSD Companion DAC Announced
09/09/2013
Shatters Price Barrier to DSD; Brings DSD to Any DAC for $149
September 9, 2013, Newhall, CA. Today, Schiit Audio announced the availability of its new Loki DSD companion DAC, which allows anyone to add DSD playback to any DAC for $149. Loki is by far the least expensive native DSD playback system on the market.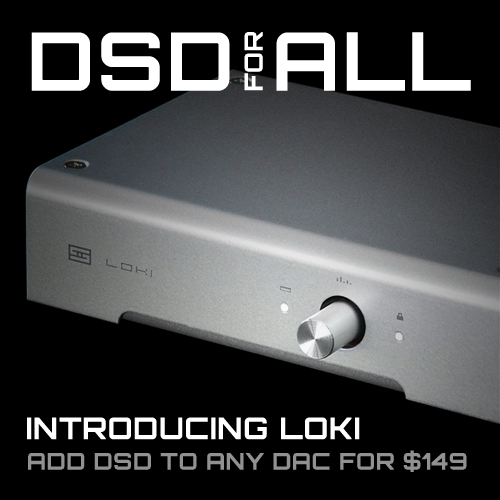 "Customers have been asking for DSD in our DACs," said Mike Moffat, Co-Founder of Schiit Audio. "But in our opinion, DSD and PCM playback should not be shared on the same analog stage. The filtering requirements of DSD are drastically different. Because of this, we chose to offer DSD as a separate, dedicated DSD-only box with pass-through switching, so it can simply be added to any DAC."
Mike emphasized "any DAC." Loki is not limited to working with Schiit's Modi, Bifrost, and Gungnir DACs--it works as a companion to any DAC that has RCA output.
Loki decodes DSD 1X using the DoP spec and proprietary Schiit firmware on a Microchip PIC controller to provide bit-perfect DSD native playback with a variety of music players on both the PC and Mac platforms. It connects to any PC or Mac via USB, and is powered by the USB bus, with extensive filtering and power regulation to ensure pure, noise-free performance.
"We're very proud of Loki's performance," Mike Moffat said. "Compare it to DSD DACs that cost many times more. Its sonic capabilities are far greater than its price, because it's not trying to do both PCM and DSD with the same output stage."
Mike also emphasized that Loki was "the right path to an uncertain future," citing SACD, HDCD, DAT, reel-to-reel, ELcassette, and even quadraphonic formats as audiophile-lauded formats that never made it to the mainstream. Loki allows virtually anyone to try out DSD for a very low cost, without the need to replace their perfectly good PCM DAC. If DSD doesn't take off, they've lost very little in investing in Loki.
Like all Schiit products, Loki is made in the USA. It offers a 2-year warranty, and is available now for immediate purchase at Schiit.com for $149.
About Schiit Audio
Founded in June 2010 by audio industry "old dogs" Jason Stoddard and Mike Moffat, Schiit Audio has a simple, if somewhat insane, mission: to bring superior performance, design, and quality to audio products at near-Chinese prices, while manufacturing in the USA.
Jason Stoddard was the former engineering lead at Sumo, designing power amps that included Polaris II, Polaris III, Andromeda III, Ulysses, Ulysses II, The Ten, The Five, as well as preamplifiers including Athena II, Diana, and Artemis, and Sumo's first digital line: Axiom and Theorem.
Mike Moffat was the founder of Theta, Theta Digital, and Angstrom, and his audio history covers an impressive list of firsts, including the first standalone DAC, the Theta DSPre, the first use of digital signal processing and bit-perfect digital filter algorithms, the first DTS surround processor, and more