Reviews for Ragnarok
Schiit's new audiophile amplifier is a slam dunk winner
Steve Guttenberg, CNET Audiophiliac
"The Ragnarok 2 was a truthful messenger. Music sounded real, immediate and alive. I loved it for that. It's not going to sweeten the sound of harsh recordings, but the great ones were revealed in all their glory."
"The Ragnarok 2 is also one heck of a headphone amp. It drove massively insensitive headphones like the Hifiman Susvara with a remarkable sense of ease, and the sound was absolutely superb."
"To sum up, the Schiit Ragnarok 2's versatility is unmatched for the money. Its sound with speakers and high-end headphones is extraordinary. Build quality and the warranty are top notch. The Ragnarok 2 is one heck of an amp."
Ragnarok 2: Muscles
Linus at Headfonia
"The Ragnarok 2 is primarily a speaker amplifier, but it's so much more than that. Select the fully loaded option and you get a DAC, pre-amp, integrated amp, MM phono amp and a headphone amplifier. All in one massive box. The build quality of the Ragnarok is very good, but you have to make sure you have the room for it."
During the last couple of months, I have played and enjoyed my time with the Ragnarok 2. It handles anything I throw at it and I'm sure my bookshelf speakers did not push the Schiit to its limits. Very far from it. With my HiFiMAN Susvara headphones that did look a bit different. But Ragnarok still had more than enough reserves to fire into my headphones to make my ears bleed.
Ragnarok sound smooth, organic and full through and through. It is a great amplifier for many products."
Ragnarok 2 Integrated
Positive Feedback, Smit Patel
"Overall then, the Schiit Ragnarok 2 represents the next evolution in Schiit's mantra for modular design philosophy. Complete with remote control, nexus differential gain stage, and heatsink capacities, the Ragnarok 2 improves over its predecessor at a surprisingly cheaper price ($1499). Tracks sound vivid and holographic with engaging character and holographic resolve. Perhaps Schiit could consider the options for a tube stage, but I imagine this may drive the price of a future revision. The versatility of this amp however, is second to none with the upgraded version featuring both MM Phono and DAC options (at $1799). Together with a durable design factor and generous 5 year warranty, the Ragnarok 2 really represents that all-in-one amp to service both speakers and headphones alike."
Ragnarok 2 Integrated Amplifier
Stereophile, Ken Micallef
"I love Ella's Swings Brightly With Nelson for Riddle's arrangements and buoyant big band—and of course, Ella herself, who sounds joyful throughout. Through the Rag 2, Ella's artistry—every dynamic nuance, every subtlety of timing, every inhalation and exhalation—was reproduced better than through any amplifier I've had in house. The Ragnarok 2 was so resolving, yet in such a non-analytical way, it was almost like being inside Ella's head. Her vocals sounded more human and less canned than I've ever heard."
"Midrange frequencies are where this amplifier excels. Kessel's guitar on Poll Winners Three! sounded particularly lush and toneful. Shelly Manne's drums were textured and present—not as present and colorful as when played through my Shindo gear, but with more warmth than any other solid-state amplifier I've reviewed. The Rag 2 performed the neat trick of being crisp and warm at the same time."
"Conclusions
In its Fully Loaded version, the Schiit Ragnarok 2 offers greater flexibility than its predecessor and includes a remote and an evidently capable DAC and phono stage. And when purchased as Just An Amp, the Rag 2 is $200 less expensive than the original Ragnarok. Where else can you get all this hi-fi goodness for that kind of money? Highly recommended."
AudioSolace: Ragnarok 2
Smit Patel
"The Ragnarok 2 amplifier, like its predecessor, has a very transparent, rich and clear tonality. In all gain settings, the Ragnarok 2 demonstrates excellent ability in delineation with quick transients and separation. The amplifier is not really recommended for in-ear monitors due to the overwhelming power outputs and high noise floor. Instead, headphones and speakers are the best pairing options with the Ragnarok 2 able to drive both with authority and depth."
"Paired with the SVS Wireless Speaker system, the Ragnarok 2 commands authority with great dynamics, stereo separation and a rich sound that fills the room. Compared with the Mjolnir 2, the Ragnarok 2 sounds more vivid and characterful with a holographic layering that defines the Schiit house sound. Paired with the Schiit Yggdrasil Analog 2 DAC, the sound becomes faithful to tracks, highlighting every miniscule detailing and nuance in its glory without covering or misrepresenting poorly mastered tracks. For that reason, the Ragnarok 2 makes an excellent addition for any consumer or professional wishing to master music or for those seeking a neutral but accurate sound."
"The Ragnarok 2 pairs well with planar headphones such as HiFiMAN's Susvara, HE-1000 V2 and Meze Audio's Empyrean. The sound rests very much in line with the original signature but with added focus, sharper transients and a very multi-layered field of sound."
Headphone Guru: Ragnarok 2
Gary Alan Barker
"The Schiit Ragnarok 2 DAC/Preamp/Headphone Amplifier/Loudspeaker Amplifier expands on the original with a better amplifier and the options for a phono preamp and a True Multibit DAC offering a reference quality DAC/Amplifier for less than most companies (including Schiit to be honest) sell their stand-alone reference DACs making it one of the best values in audio period."
"While my love of tube magic still makes the Lyr 3 special to me, the huge soundstage, copious reserves of power, unprecedented musicality and laser fine imaging clearly puts the Ragnarok 2 at the head of the pack, able to compete favorably sonically with any DAC/Amp out there, at any price, while also performing as the centerpiece of an audiophile loudspeaker system."
GreenAudioReview: Ragnarok 2
GreenAudioReview
"If you've read any of our reviews you know that modularity is something we value here at Green Audio Review. It makes a component future-proof rather than, as Schiit says it, dumpster-fodder. How many great integrated amplifiers have been resold or discarded because the DAC or the phono stage could not keep up with technology?
The Ragnarok 2 is a wonderful amplifier, and being able to upgrade the DAC and phono-modules as technology advances means that we might never have to buy another amplifier.
Once again, sustainability is tied with modularity. Making products that meet all our needs (speaker-amplification, DAC, phono stage, and a seriously good headphone amp) while being both great sounding, affordable, and upgradable shows us how simple and rewarding it can be to go green on audio.
The Ragnarok 2 is not the end of the world – it's the beginning…
Here you go: a Green Award effortlessly earned."
Product of the Year
Headphone Guru
Golden Clef Award
HiFiAudio Guru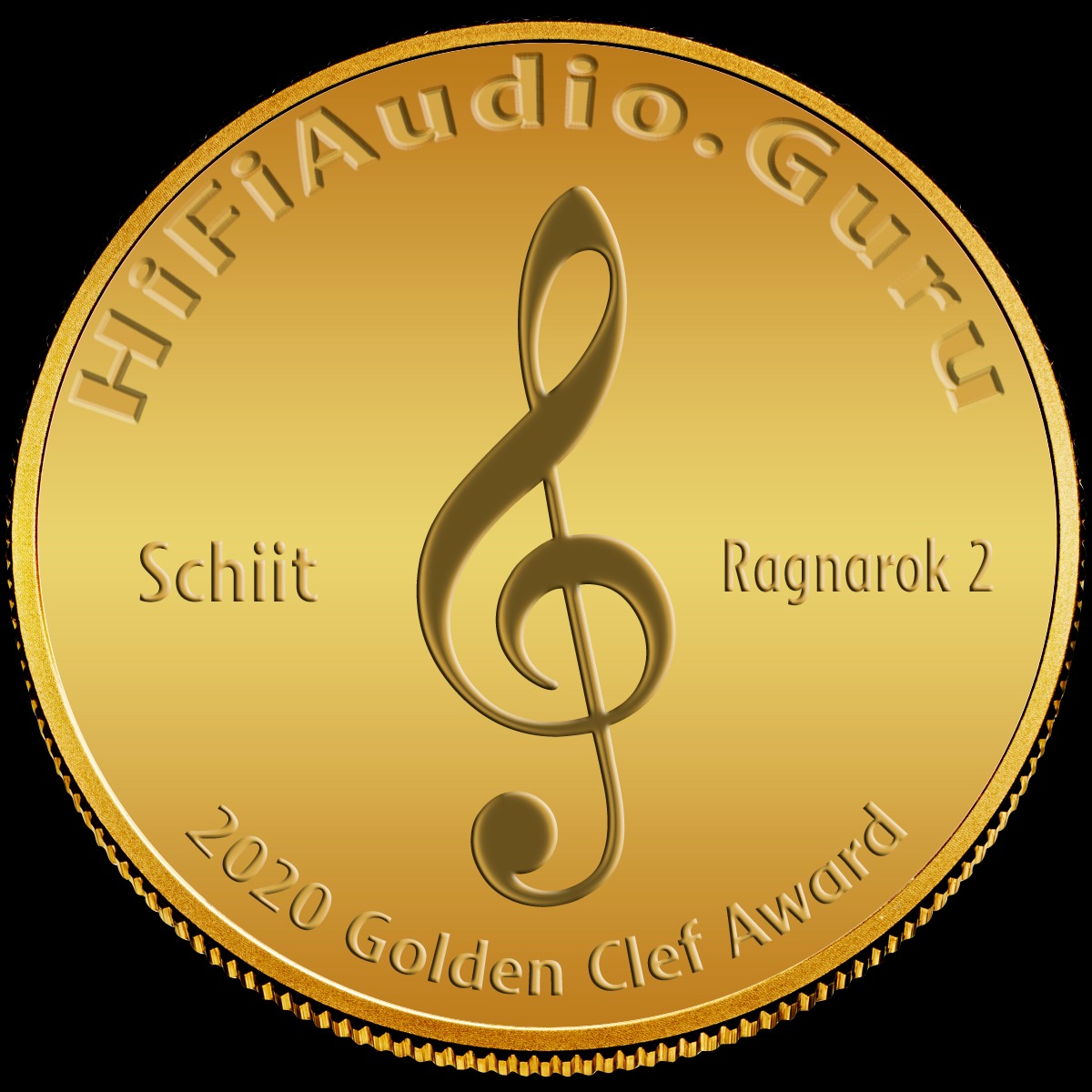 Schiit Audio Ragnarok 2 Nexus Integrated Amplifier
twitteringmachines.com, Michael Lavorgna