Reviews for Lyr
Third Time's The Charm
The Master Switch, Rob Boffard
"It more than stands up to its competitors in the space. If you're looking for a good tube amp, one that can handle just about any headphone you throw at it, then the Lyr 3 is an excellent place to start."
A Leap Ahead
Gary Alan Barker, Headphone Guru
"Unlike many tube headphone amps that exhibit the rolled off high frequencies and bottom end that a seeming majority of electrical engineers think is the "tube" sound, the Schiit Lyr 3 produces a true audiophile sound with extreme linearity in both the low bass extending into the subsonic and the upper registers, while retaining the musicality of midrange to tame the occasionally aggressive precision of the Schiit Multibit DAC. Despite the use of a shared tube for both channels, the stereo separation was competitive with many dual mono amps I have heard, and while the soundstage is a bit shallower than I prefer, it does depend a lot on which headphone you listen to, as listening through the Katanas put me exactly where I wanted to be. As to power and dynamic range, I can't imagine a headphone that the Lyr 3 couldn't drive easily and produce clean clear concert level volumes for those who wish to damage their hearing. I did find myself listening to higher volumes than I would normally without any fatigue, and could easily get lost in the music for hours."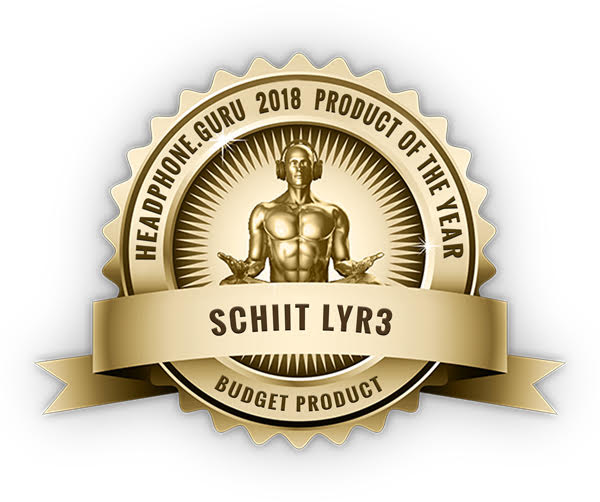 Schiit Audio Lyr 3 – Flexibility
Headfonia.com, Linus
"The Lyr 3 to me is a highly musical sounding device that really gets you into the music again, where you lose all sight of critical listening and just enjoy what is in front of you."
"Take into account the immense elasticity of the product, letting you configure it to your needs, and the extreme output power you will be faced with one tough decision not to get the Lyr 3 when you're looking for a new affordable desktop amplifier."
"For the price, the flexibility and the sound it is highly recommended and gives every other amplifier of this year a serious run for Best Amplifier 2018."
Schiit Jotunheim Balanced Desktop Headamp / Preamp Lyr 3 Hybrid Headamp / DAC / Phono
EnjoyTheMusic.com, Jeremy R. Kipnis
"While the Schiit Jotunheim and Lyr 3 are both primarily about the getting the most bang for your sonic dollar while enjoying the music in both a refined and glorious fashion reminiscent of old world full sized components, you can also expect to get both that extra aural excitement and total immersive invitation even more with the Lyr 3, thanks to that 6N8S vacuum tube – especially on headphones. It's simply a matter of counting goosebumps, where the Jotunheim is precise, controlled, clear, and delineated far beyond it's apparent price (with sound value rated at about 4 times its price). Yet, the Lyr 3 picks up and improves upon that already fine and tingling sound experience and ratchets it up a few more important notches – especially in the portrayal of holographic space, weight and depth of the recreated soundfield, and gut penetrating dynamic contrasts, especially if given stellar sounding Schiit to listen to."
ZReviews: Lyr 3
ZeosPantera